Bear Park
Monticello, Illinois' only industrial park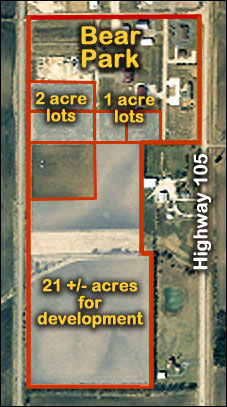 Monticello's only industrial park (zoned Industrial), Bear Park offers acreage, zoned and platted lots, and commercial/business space for lease. Locate your business in a growing commercial area in east-central Illinois!
Lots in Bear Park – Sale Price $50,000 per acre
3 lots zoned Industrial and 1 lot zoned Business, easy access to state highway 105, 1 mile south of downtown Monticello, fully developed and ready to build on with street access.
Illinois Power, 12.47 KV
Illinois Power, natural gas, 4″ main, 25 psi
City water, 10″ main
City sewer, 8″ main
Verizon Telephone
Adjacent to Norfolk-Southern Railroad on west side Bear Park.
Farmland – 21 acres available – Sale Price $35,000 per acre
Zoned Industrial with all city and utility services brought right to property line. Convenient to downtown Monticello, Illinois, (pop. 5,100), just 1 mile south of the downtown area.
Easy access to state highway 105, to Norfolk Southern railroad tracks.
Located just 3 miles off Interstate 72, with easy access to Champaign-Urbana, Decatur, Springfield & Bloomington, Illinois.
Commercial / Business Building
New 60 x 120 foot building for commercial & retail space with separate units, 900′ – 1800′ with interior walls ready to be subdivided to suit your needs. Separate utilities, ample off-street parking, reasonable cost per square foot.
Call today for leasing information. This space will go fast.
Phone (217) 762-3356
Fax (217) 762-3357
E-mail: askus@propredevelopment.com
If you see a property listed here you are interested in viewing, please give us a call to set up an appointment to view the property.